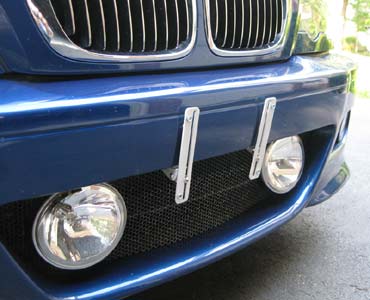 No Holes Front License Plate Mount
Don't want to drill unsightly holes through the front of your bumper?

Do you want an elegant, unobtrusive license plate mount that looks better than the stock model?

Do you need to mount a front license plate but don't want to pay over $200 to have a bracket painted to match your car?

Do you need to mount a plate for a fix-it ticket?
If so, the Skene & Calvert Front License Plate Mount is exactly what you've been looking for.

Its sleek, minimalist design attaches on the underside of the bumper, requiring no holes in the front face. A low cost, low profile alternative to bulky, stock OEM brackets, it is all but invisible when the license plate is screwed on. No expensive painting is needed to match your car's color. Two small, 7/64" holes are required on the lower surface of the bumper. These holes are virtually invisible should you remove the bracket in the future.

Note that our bracket mounts in the center of the bumper for a clean, balanced look, well away from parking sensors. It does not use a tow hook bolt which results in an offset mount and can obscure the parking sensors.

Fabricated from aluminum alloy, the license plate bracket is shipped complete with left and right brackets and all necessary stainless steel mounting hardware, and 4 stylish, stainless steel flat-head socket screws to mount your license plate with. It even includes the 7/64" drill bit and an Allen key for ease of assembly.
Features:
5 sizes fit virtually all vehicles

comes preassembled, with all mounting hardware

5 minute installation can be done by anyone

clear, concise instructions included

Euro size fits European and US half size plates
Click the "Bracket Size" tab on the menu at the left to determine the correct size for your vehicle.